Forsyth County Detention Center Lock and Control Upgrade
DSI Innovations LLC was hired to complete a large-scale, multimillion dollar security-based project that included upgrading the lock and control systems of the 11-floor Forsyth County Sheriff's Detention Center. The new security system had to control locks and doors, lighting, and fire equipment in the 400,000 square foot facility. In addition, the new system had to make the lock-up less vulnerable to power surges and potential
escapes by the 1,000-plus people housed there.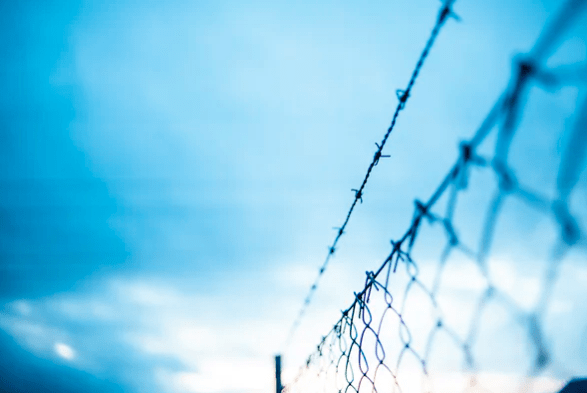 DSI installed a fiber optic system with an Ethernet backbone. This system was chosen because it required less maintenance than the Detention Center's old
system and it would not be as vulnerable to downtime due to power surges or other problems. The control system network consisted of 14 PLCs and HMIs on a fiber ethernet Network with one PLC and HMI per inmate area, a PLC and HMI in several common areas, and one PLC and HMI in the Master Control area. DSI programmed the system so that the Master Control could override the other areas as needed in the event of a lockdown.
The system was designed to operate locks and doors, intercoms, PA systems and lighting controls throughout the 400,000 square foot facility. The system was
installed one floor at a time. As each floor was re-wired, inmates were moved to other floors for increased security. In addition to cell floors, the project included ancillary services, the medical intake area, and the master control. The center's fire control system was also integrated into the new security system.
For this project, it was imperative that DSI design the system and plan the installation so the Detention Center's old security system would remain operational throughout the install. "Lock & Control is the most important function of the Detention center," said Captain Stewart Yale, Forsyth County Sherriff's Office. "Our doors need to stay locked at all times. DSI was able to keep our old system operating while installing the new system to assure that we were secure. I can't say enough about the precision and work ethic of this company."
According to Captain Yale the success of the project was also due to the close collaboration between everyone who worked on it. "We had all the right teams on this project," said Captain Yale. "The installation process was safe and meticulous. The result is a new, cost-efficient system that will assure increased security and ease of operation at the Detention Center."
The project was such a success that the Forsyth County Sheriff's Office awarded DSI with an Excellence in Service award.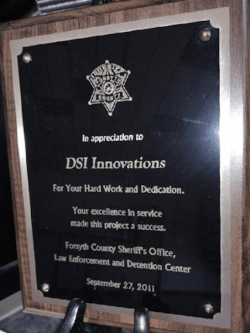 At DSI, success means more than project profitability. While having profitable projects allows us to take care of our families and provide a lifestyle that we and our loved ones desire, it is equally important that we develop meaningful long-term and mutually beneficial relationships (i.e. partnerships and friendships). Not every individual project (or relationship) goes as planned 100% of the time. We have to actively work to ensure that over the long haul, our professional relationships produce mutually beneficial results (over many projects and years supporting our clients and friends). That's always been our stance and has served us well. A great project is one thing but it's a moment in time. We prefer to think of every relationship as a partnership and work every day to drive repeat profitable business for ourselves and sustained increased profits for our clients and friends (leading to individual bonuses, accolades, etc.). That's how we define success at DSI Innovations LLC.
"Thank you to the DSI team for all of the support they have provided Dean Foods. I have worked with many of DSI's employees on large projects, small projects, late nights, extended weekends, and I have never had an issue that they didn't solve. I am amazed at the number of extremely talented employees at DSI that can answer any call…. Thank you DSI team for all you do."
"I can't count the number of times I've had to argue with other controls groups over issues like how operator interfaces are designed, as-built cadd drawings and documents, debug issues, field electrician support, etc. With DSI, it has never been an issue… I recommend them for any project(s) you have!"
"Our company has worked with DSI for many years in an array of capacities from service calls to large projects. They have been instrumental in helping our company grow. Their good leadership, diverse skill-sets and work ethic are just a few of the traits that make them easy to recommend"