Take Your Career to the next level!
Industrial Automation Systems
Junior, mid-level, senior positions available!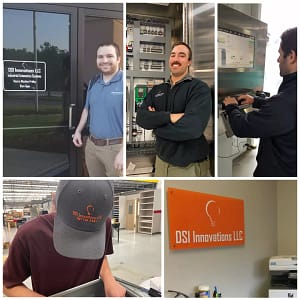 About us
DSI is a technical services company specializing in all aspects of system design, implementation, and commissioning for industrial control and data systems. We are committed to delivering better ideas and solutions to solve the most challenging automation problems.

From the beginning, DSI has always focused on hiring and retaining only the best and brightest in the business. This allows us to provide the highest level of service to our customers and do it efficiently.
Areas of focused operations and offices along the east coast!
We Have Automation Experience Around the World!
At DSI, success means more than project profitability. While having profitable projects allows us to take care of our families and provide a lifestyle that we and our loved ones desire, it is equally important that we develop meaningful long-term and mutually beneficial relationships (i.e. partnerships and friendships). Not every individual project (or relationship) goes as planned 100% of the time. We have to actively work to ensure that over the long haul, our professional relationships produce mutually beneficial results (over many projects and years supporting our clients and friends). That's always been our stance and has served us well. A great project is one thing but it's a moment in time. We prefer to think of every relationship as a partnership and work every day to drive repeat profitable business for ourselves and sustained increased profits for our clients and friends (leading to individual bonuses, accolades, etc.). That's how we define success at DSI Innovations LLC.
Jason Dupre
CEO and Founder